I made a return visit to a Gibsons, BC favourite, Smitty's Oyster House.  The location of this restaurant is nothing short of spectacular.  It's located right below Molly's Reach in the heart of the harbour (bottom of these stairs):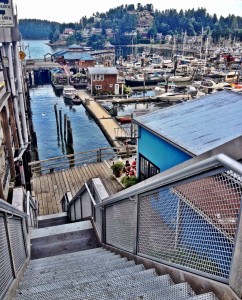 Unfortunately I didn't make reservations prior to arriving and there was a 40-minute wait (for two people) so this is a good indication as to how popular this place is with the locals and tourists.  Luckily the location is awesome so you can just relax on the boardwalk and absorb the great views including the Oyster recycling depot just in front of Smittys: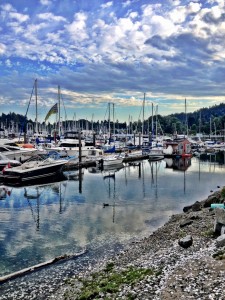 We managed to secure a spot at the bar which puts you right in the heart of the action as this is where all the 'shucking' occurs so you get to learn about the different oysters and the technique involved with the preparation/serving: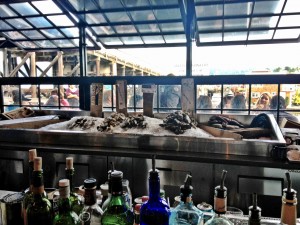 We decided to order a go-to favourite, the chili lime prawns (2 orders to be exact) as these things are insanely good:
Sautéed Large White Prawns, Topped with Asiago and Served with Grilled Baguette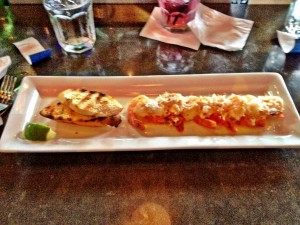 Once the Chili Lime Prawns were inhaled, I decided to go with the Halibut Fritters which consists of bite-sized chunks of perfectly cooked halibut with some of the best crispy fries you'll ever taste:
Crispy Tempura Beer Battered Halibut Pieces Topped with Malt Vinegar Reduction. Served our Famous House-Made Tartar Sauce and Choice of Sides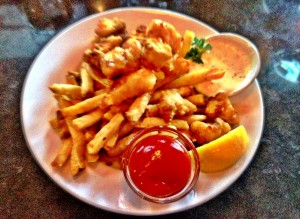 $165 later we had an epic meal surrounded by great people and an awesome view.  The atmosphere/ambience of this place is great mid-summer as it's packed with locals and tourists.  It's a definite must-visit if you are visiting Gibsons on the Sunshine Coast BC.  This place is a 5/5 as it is arguably the best restaurant in Gibsons.