I made my second visit to Acme Cafe in as many weeks and I couldn't wait to get back and try something else on the menu.  On my first visit I tried the shrimp melt which was absolutely money:
shrimp, roasted peppers, and onions open faced and topped with Jack cheese. On a half-Ciabatta
Acme Cafe is just on the outskirts of Gastown located right beside Save On Meats.  It's not where you'd expect to find insanely good food with typical lineups out the front door.  Either way, this place is worth seeking out and so far, only two menu items down, I'm anxious to get back to try more.  Today I tried the lunch special which was a chicken + bacon sandwich on a ciabatta bun, soup or chips, slaw (aswesome btw), and dessert.  The sandwich hit the spot (although I could have eaten three of them) and the dessert was probably the best thing I've eaten in 2012! It was a banabread pudding with chocolate, whip cream and a sprinkle of heaven: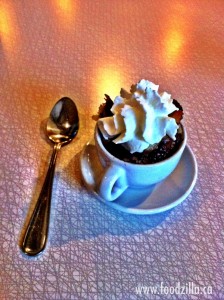 Top to bottom lunch was A+ and this is definitely going to be a place I visit on a weekly basis. 5/5 on the Foodzilla scale!