Red Robin is an often forgot about burger joint with only 17 locations in Canada.  Red Robin is definitely family-oriented but their menu is packed with many gems which makes it worth enduring a meal full of screaming beasts around you.  On this particular day I decided to reconnect with an old friend of mine, the Banzai Burger: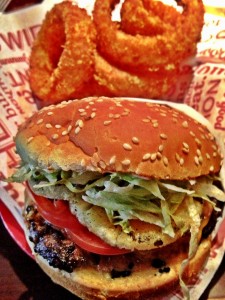 Of course I needed to pair it with some crispy onion rings but I need to mention that Red Robin's steak-fries are pretty money as well, better than the o-rings to be honest.  This burger is your traditional burger with some key differences:
Marinated in teriyaki and topped with grilled pineapple, Cheddar cheese, lettuce, tomatoes and mayo. Dude, you'll be like, ready to ride the pipeline on O'ahu's North Shore after you chomp on this!
Now if that description doesn't make your mouth water, then I don't know what will!  The burger was insanely good, the onion rings were below average and their milk shake, while a good thickness, lacked that chocolately flavour you're looking for from a CHOCOLATE milkshake: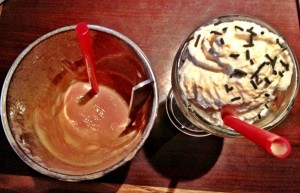 You can't go wrong with burgers from Red Robin, they're a nice change from the king of burgers (IMO), White Spot.  However, their milkshake was disappointing, and their onion rings fall into the same mediocre category.  Next time, stick with the steak-fries and skip the milkshake.  With all that being said, I'm going with a 4/5 from a burger perspective: