Pho has to be one of my favourite meals ever invented.  If you don't know what Pho is, here's a description from Wikipedia:
Phở is served in a bowl with a specific cut of white rice noodles (called bánh phở') in clear beef broth, with slim cuts of beef (steak, fatty flank, lean flank, brisket). Variations feature tendon, tripe, or meatballs in southern Vietnam. Chicken phở is made using the same spices as beef, but the broth is made using only chicken bones and meat, as well as some internal organs of the chicken, such as the heart, the undeveloped eggs and the gizzard
Personally, I always go for the rare-beef pho and usually pair it with a Vietnamese sub.  From a pho perspective, there are only a handful of Pho-serving places in North Vancouver and one of the best is V-Nam on 3rd just a couple blocks East of Lonsdale.  Their Pho is right up there with the best but not the best in the city (this title is held by Viet-Sub which we will review soon).  It's safe to say that their subs are one of the best I've had and their Terriyaki Beef sub will make you second guess ever going to subway again: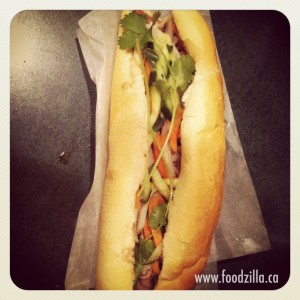 If you've never tried Pho, you are really missing out.  For your first visit, you may want to ease your way in with well-done beef pho but if you want the best flavour and something fresh, go for the rare-beef pho as this is where it's at.  On the pho-meter, V-Nam gets a 4/5!