Want a great way to start the day post long night of alcohol consumption? Here's the go-to combo I'd recommend:
1 x McCafe double-double
1 x McHashbrown
2 x Egg/Ham McMuffin
McDonald's is the epitome of gut-bomb, but this breakfast combo is sure to give you the caloric intake you need to kickstart your day.  I am going to go out on a limb here and say that the McCafe is an underrated coffee: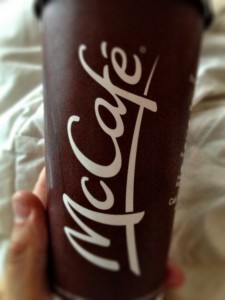 They are heavy on the sugar so if you have a sensitive sweet-tooth, ask for a single shot of sugar.  Of course a McDonald's breakfast wouldn't be complete without the beloved hashbrown, the only downside with these things is that you can eat about two dozen without breaking a sweat.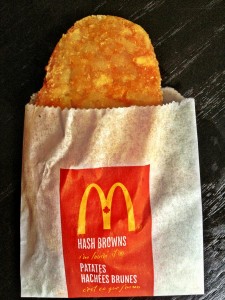 The core of the breakfast is the 2 x McMuffins – I like the ham as it's probably the healthiest thing you're going to find in this combination but the bacon McMuffin will suffice as a substitute if you're a hardcore bacon fan.  Overall, this breakfast gets the job done after those late night adventures.  Give it a go and let me know what you think! 4/5 on the Foodzilla scale for this McBreakfast of Champions.