This is my go-to meal when I eat at Joey's and it never disappoints.  It used to be called Maple Salmon but now it's called Grilled Lois Lake Salmon.  I thought Salmon lived in the ocean but that's OK, it still tastes great.  What does the dish include?
maple glazed salmon, fine herbs, maple butter sauce, crispy mashed potatoes, and seasonal vegetables
If you haven't tried this at Joey's, I highly recommend it.  I also recommend finalizing your meal with an individually baked apple pie which tastes ridiculously good, here's what it looks like: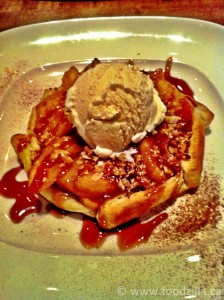 You can't go wrong at Joey's, always a great venue, good vibe, and solid eats. 4/5 on our foodzilla scale!