La Taqueria – Pinche Taco Shop in downtown Vancouver (Hastings street) is a hole in the wall packed with amazing food and a great atmosphere.  I was only introduced to this place a couple months back but I good Columbian friend who said this places pumps out the best tacos in town.  It's not etched into my bi-weekly routine called Taco Tuesday.  Every single time I've visited this place there's a lineup out the door: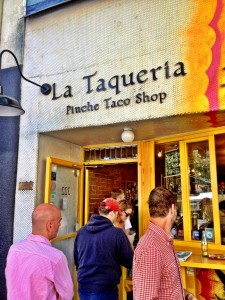 Don't let the line fool you – they move quick inside and your wait is only a matter of minutes, and trust me, it's well worth it!  The menu is packed with so many delicious varieties of meat tacos, veggie tacos, and quesadillas.  My go-to lunch is 4 x ASADA (grilled 'AAA' flank beef) paired with a Diet Coke in a bottle, the combination is out of this world – I eat these things as they come with a squeeze of lime but sometimes dress them up with an insane in-house Habanero sauce they carry.  These things are two-bite sized but packed with beef and flavour: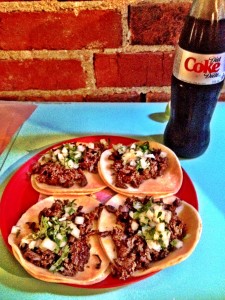 There aren't many seating options in this place but there's enough to create a good vibe of smiling people and hunger quenching.  Everyone that works here always has a smile on their face and you get the feel of a positive environment as soon as you walk in.  A lot of people take theirs to go but it's worth sitting at the bar or sitting in the back to not only devour some top of the line tacos, but to also absorb the surrounding energy: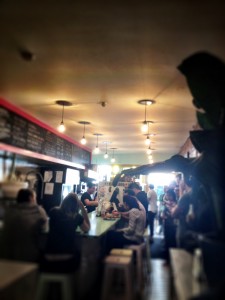 When it comes to tacos it's hard to beat La Taqueria – if you're looking for an authentic taco with amazing flavours, this is the place to be – if you're looking for a burrito the size of a football, then you will need to look elsewhere.  This place is all about quality over quantity – I've tried almost every meat and vegetarian option on the menu and I have yet to eat something I didn't like.  La Taqueria serves up consistency on a daily basis with a side of deliciousness, if you haven't been, get there ASAP!  Hands down the best tacos I've had, anywhere, and for that reason, this place gets a solid 5 on the Foodzilla scale!