This location  in North Vancouver has evolved over the years.  It has been home to different restaurants and nightclubs but is now home to a family restaurant/lounge called East Side Mario's.  East Side Mario's is an Italian restaurant but it's safe to say it's a fast-food Italian restaurant.  I've tried a handful of different things on the menu and if I'm craving the ultimate greasy-spoon, the Combo Platter is a must try:
Great for the family to share.  A full order of Budda Boomers served with Mac 'n' Cheese Bites, Crispy Ravioli tossed in a parmesan romano cheese and 3 Mario's Meatballs baked with pizza mozzarella.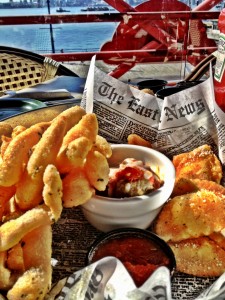 Let's start with the Budda Boomers, these are one of the highlights of this platter.  Deep-fried pizza dough with marina sauce to dip them in? yes please!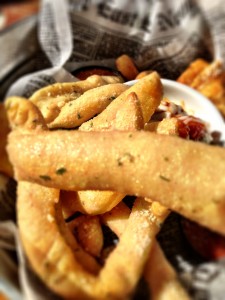 Next up are the deep fried Raviolis – another highlight of this dish for sure!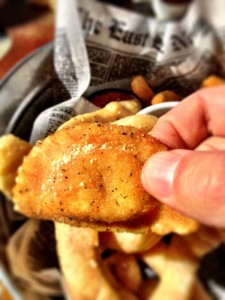 Next up are the Mario Meatballs, I have to say, these are by far my least favourite component of this platter – these are borderline testicular in texture (not that I would know what that's like) but if you enjoy eating rubber balls, you'll love these things!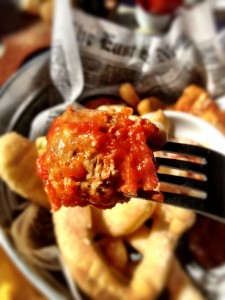 The pinnacle food portion of this combo platter is the Mac 'n' Cheese bites, wow, just wow.  These pockets of goodness are INSANE: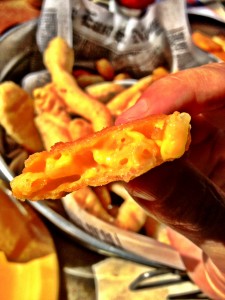 Overall this platter is the epitome of a greasy meal but like I said, if that's what you're craving, it's hard to find a better option out there.  The mixed-bag of deep friend italian food ensures all your tastebuds are satisfied.  East Side Mario's has a great patio (underrated) with some amazing views of Vancouver, so it's a great place to relax on a Sunday afternoon.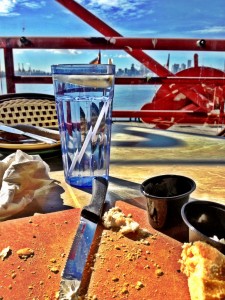 The Combo Platter itself is not recommended to be a part of your daily diet, however, when you're craving the ultimate cheat-meal, it's hard to beat this one, and for that reason, it gets a 5/5 on the Foodzilla grease-o-meter!