Andreas Restaurant is a North Vancouver landmark, there aren't too many people that live on the North Shore that haven't tried Andreas.  This review is going to be focused on their pizza and hot-wings, two of their go-to items for me.  Let's start with the pizza; this thing is your classic greek-style pizza which is composed of a thicker crust, loads of toppings, and about 3 lbs of cheese.  If you're looking for a thin/frail pizza, then stay clear of Andreas as these are definitely man-pies.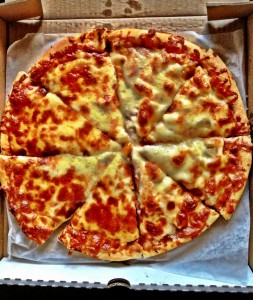 If you're a fan of Hawaiian pizza, then the Andreas Hawaiian is a must-try as they don't shy away from putting approximately two pineapples worth on this pie as well as at least a block of mozzarella.  Now on to the hot wings, so first off, who orders hot wings from a pizza place? great question, but I received a tip via word of mouth about the hot wings from Andreas and decided to give them a go a couple years back.  Let me tell you that I have yet to encounter a better hot wing anywhere, and that is a bold statement!  I don't know the process that goes on to create these magnificent little morsels but whatever they do, it's magic:
I was trying to think about negatives when I started writing this review and there are only two that come to mind. 1 = these guys are busy, if you order on a Friday or Saturday expect at least 60 minutes before you see your order, when I say they are a North Vancouver landmark, I am not kidding. 2 = on the odd occasion my pizza has arrived with a soggy crust, not the end of the world (as you're starving by the time it arrives) but it can be a little disappointing.  Either way, if you're in the mood for a cheat-day type pizza meal and have an affection with amazing hot-wings, make sure you check these guys out.